Group License Subscriptions
The Best Training. Anywhere. Anytime.
Do you want to offer your students, staff and trainees instant access to an in-depth and comprehensive offering of training videos?
Just launched May 2013, we are now packaging our titles into three diverse collections to meet every need and budget. Prices are based upon number of users, with discounts up to 78% available (versus the price of ordering individual titles separately); please contact us for details.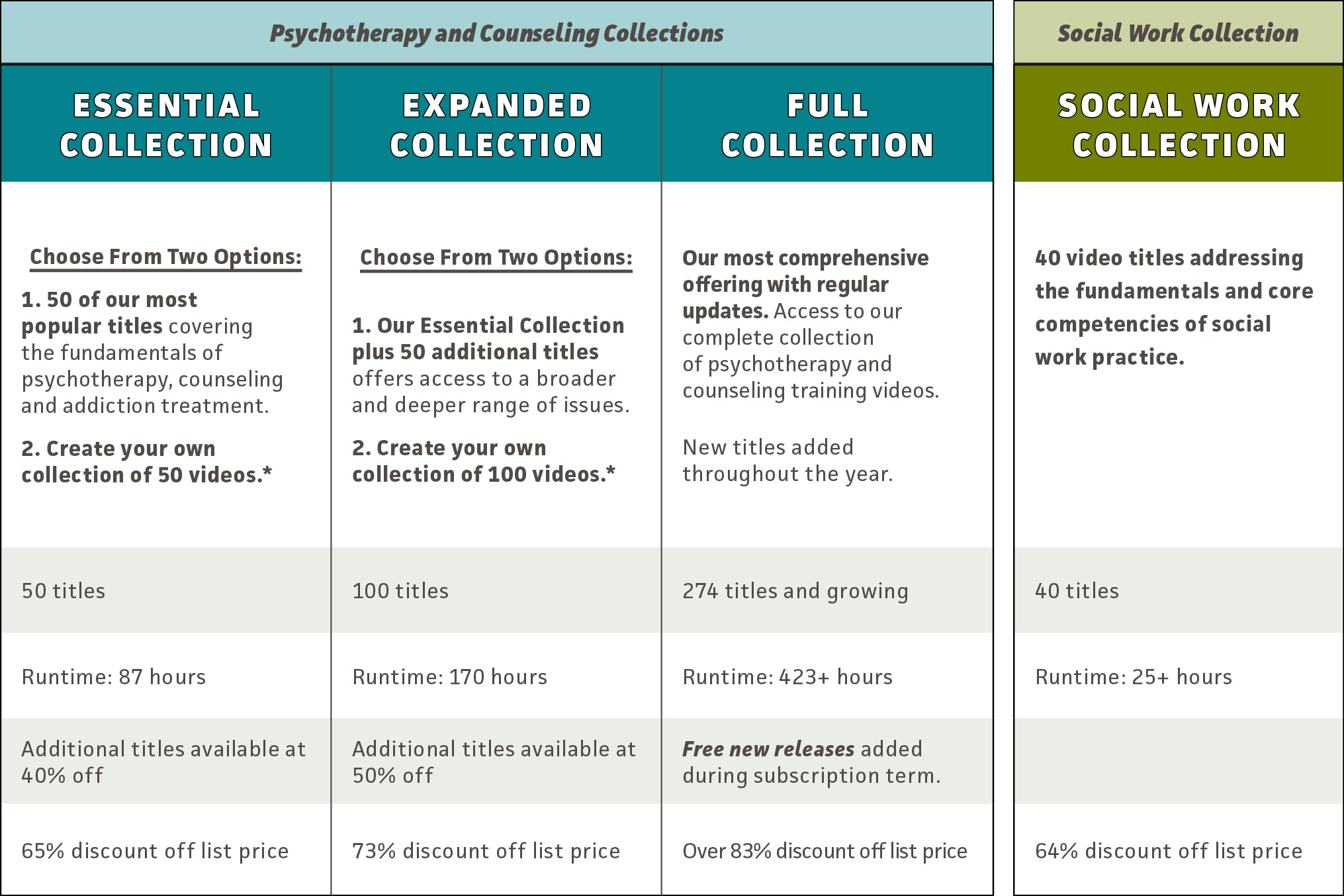 ►
Download list of titles in Essential Collection
►
Download list of titles in Expanded Collection
►
Download list of titles in Full Collection
The Full Collection will expand as new titles are added on a regular basis throughout the subscription period.
Are you interested in a custom collection of our titles?
We are a small and flexible company, and will work with you to accommodate your needs and budget. Please
contact us
for details.
Want to know more about streaming for Institutions?
Visit our
Group Streaming License
and
About Streaming
pages.
What others are saying:
"An astounding collection of psychotherapy and counseling training videos presented on an easy-to-view streaming platform. There is no excuse for any serious training program not to subscribe to the Psychotherapy.net collection."
--Monica McGoldrick, LCSW
, Professor of Psychiatry, Robert Wood Johnson Medical School; Author of
Ethnicity and Family Therapy
"There's no better way to become a great therapist than to watch great therapists in action. And there's no better collection of great therapists on video than what's available on Psychotherapy.net. In this video collection we see how therapists from the past and present use being (the relationship) and doing (technical interventions) to move clients through their problems and toward their potential. I strongly recommend this immensely helpful video collection."
--John Sommers-Flanagan, PhD
, Professor of Counselor Education, University of Montana; coauthor of
Clinical Interviewing
and
Tough Kids, Cool Counseling
"This database would be a valuable addition to any institution training students to become mental health therapists and counselors."
--Rachael Elrod, MEd., MSLS
, Head, Education Library, University of Florida, Reviewed in
Choice: Current Reviews for Academic Libraries
"An absolutely incredible collection featuring the leading psychotherapists and counselors of our generation, combined with a state-of-the-art user-friendly interface. Theories are invaluable, but providing students the ability to see actual counseling taking place is necessary to ensure they master the required skills. I believe the Psychotherapy.net collection makes this major contribution to preparing the next generation of practitioners. I am convinced that all who use it will enhance their training outcomes for students."
--Sam Steen, PhD
, Associate Professor of Counseling, George Washington University
"The Chicago School of Professional Psychology Library has benefited so much from having the psychotherapy.net collection in our library. Students and faculty alike have been able to access videos that until now have only been found on VHS, if at all! The ability to offer so many great and relevant videos to our students in one place at one time has really made our collection stand out. This is the best psychotherapy and counseling video collection on the market to date!"
--Elizabeth Bernal, MLIS
, Associate Director of Information Resources, TCS Education System
"I have to say I am very impressed by your clipping tool. The ease of highlighting a portion of a transcript to generate a clip is unsurpassed."
--deg farrelly
, Media Librarian/Streaming Video Administrator, Arizona State University Libraries
"Psychotherapy.net has created one of the most sophisticated video streaming sites I've seen in terms of functionality."
--Minal Bopaiah
, reviewed in
SubscriptionContent.net
Back to Top ▲